Professionalise the Talent acquisition process
Certifications
Certification will enable you to develop very specific skills to improve the effectiveness and efficiency of each step of the recruiting cycle.

There are many benefits to certification training: acquiring new skills, gaining self-confidence, preparing for a job promotion, obtaining recognition via certification, developing a network.

For the company, the benefit of certification training is just as big: involving your Human Resources in the deployment of the recruitment strategy, gaining employee loyalty by investing in the development of their skills, retaining and motivating talent via training.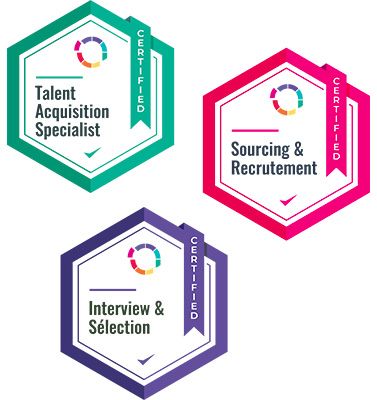 Assessment is done on an ongoing basis, throughout the training. We assess your attitude during training, your behaviour, and your mastery of the principles and knowledge covered. You build your case study, which you will present to your lead at key times of the training course. They will provide regular feedback.
Here are the main assessment criteria:
Your attitude and behaviour: warmth, adaptability, responsiveness.
Your ability to integrate new concepts and innovations.
Your skills: Your in-depth understanding of the concepts covered during training.
Your maturity: Being able to become invested in a project – Being able to take a step back – Understanding and integrating feedback
Your integrity: Understanding and development of your Talent Acquisition Manager approach
Your consistency: Being able to express yourself clearly and logically: say what you are doing and do what you say. Accepting constructive comments and learning to give feedback.
Your open-mindedness: Team work – Tolerance – Listening – Understanding and sharing. Acceptance of limits, differences.
Your creativity: Showing creative ability, creating new applications, innovating.
Integration and follow-up
Participants will work on a programme consisting of the following during the training:
At the end of each module, the participant will provide their trainer with a written case study on the material covered. They should detail the content and way in which the Talent Acquisition Specialist intends to tackle the different topics (concepts used, exercises, etc.). The participants can help each other and will be encouraged to share during this project.
The participants can do the work as they see fit and will be authorised to help each other and exchange their knowledge.
Join us. We will train you to attract the best talents and ensure that they blossom.